Verminators Flying Squirrel Trapping, Removal, Exclusion, and Cleanup
Humane and Permanent Flying Squirrel Removal in all of North Georgia including Gainesville, Lake Lanier, Cumming and more. Call or Text anytime. 678-920-0948
Verminators have been solving nuisance flying squirrel problems for over 20 years. We are experts in flying squirrel trapping, flying squirrel removal, flying squirrel exclusion, and flying squirrel attic cleanup. We offer inspections and estimates for getting rid of the flying squirrels in your attic. Guaranteed animal proofing 5 years.
Removing flying squirrels in attics is not a complicated process, but always involves more than just setting traps. In order to prevent flying squirrels from getting into your attic, you must physically prevent them from doing so. All openings on your roof must be sealed using the proper materials. Verminators offer an easy and quick solution to removing flying squirrels (and other rodents in your attic). Flying Squirrel proofing your home is the only method for permanently keeping your home free of flying squirrels.

Get Rid of Flying Squirrels in 3 Easy Steps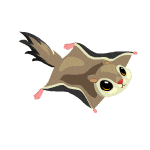 1. The Home Inspection. The first step towards a quiet, squirrel free attic is a complete and thorough inspection of the interior and exterior of your home. In the attic (basement, crawlspace, and walls), locate nesting, feces, tunneling and other signs of infestation. Identify any damage the animals make have caused to your home such as chewing on wires, living in boxes, etc... Find the exterior holes that the flying squirrels are using to enter your attics, walls, and homes.





2. Install a Flying Squirrel Safety Exit Tunnel. Locate the flying squirrels main point of entry into your attic. Once identified, a Flying Squirrel Exit Tunnel will temporarily install on the outside of this hole, on the outside of the structure. This exit device allows any flying squirrels still inside to exit without re-entry. This eliminates the need to trap the flying squirrels inside your attic. Flying Squirrels can cause more damage if you lock them inside the attic without a way to get out.





3. Flying Squirrel Proof your home! We squirrel proof every opening on your roof and more! Verminators have identified all existing openings or potentinally vulnerable areas that flying squirrels are either using now or could use in the future. Verminators use only the best quality materials for animal proofing your homes and businesses. Verminators have long guaranteed squirrel proofing.